Homeboy Industries 5k + Community Fest
admin
Help Support our Local Community!
Dove Communications, Inc. is a proud sponsor of Homeboy Industries 5k Run + Community Fest. We truly honor their mission, and we are thrilled to be a part of this momentous event that allows us to celebrate and give back to our community.
In the last 30 years, Homeboy Industries has played a significant role in reducing gang activity in Los Angeles, expanding the scope of re-entry services, and promoting public safety. Their advocacy has brought about positive changes that were previously unimaginable.
Come and join Homeboy Industries along with the Dove Communications Team for their 14th Annual Homeboy 5K Run/Walk in the heart of Downtown Los Angeles. Be part of the 5,000+ runners, walkers, volunteers, and families who will start the morning with lots of energy, joy, and laughter outside their Chinatown headquarters. The event will end with a street celebration featuring artists, partners, and vendors from across the city.
When choosing to participate in the event, or find in your heart to donate, your partnership with the Homeboy 5K Run/Walk supports their mission to provide training and support to formerly gang-involved and previously incarcerated people. With your help, they can redirect their lives and become valuable members of our community.
More Ways to Support the Community
Fill Jobs, Not Landfills with Homeboy Electronics Recycling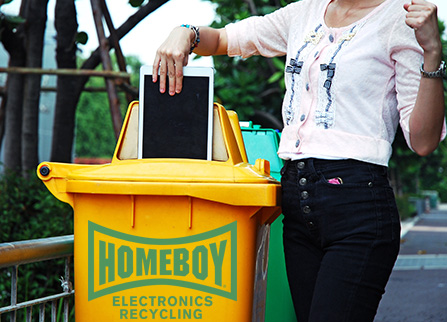 Homeboy Electronics Recycling is an award-winning social enterprise, offering a variety of e-recycling services. Their mission is to provide customers with the highest quality electronics reuse and recycling solutions while employing people who face systemic barriers to work.
Whether you are a large organization in a compliance-driven industry or a small office needing a simple pickup, their team can help. They are a nationwide electronics recycling company that can handle all your commercial e-waste recycling and ITAD needs.
For more information on how you can have a social and environmental impact visit: Homeboy Electronics Recycling