ZIP 36G
ADVANCED GIGABIT IP BUSINESS PHONE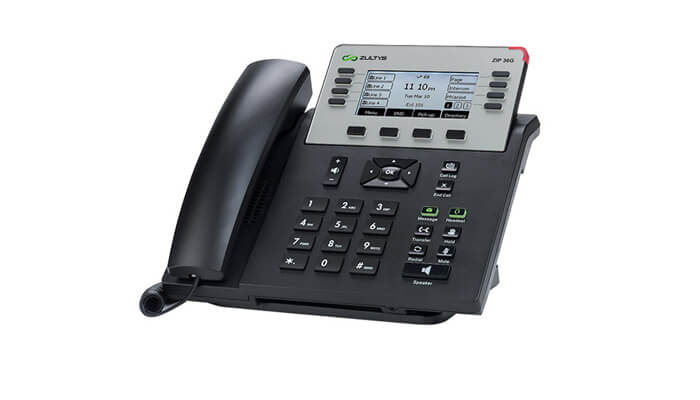 The ZIP 36G incorporates a 3.7″ backlit graphical display and dual Gigabit Ethernet ports in a feature rich IP phone suitable for the most demanding of users. Functions and contacts may be accessed quickly via 21 programmable soft keys. A dedicated headset port and Electronic Hook Switch support offer enhanced usability for wired and wireless headset users. The optional ZIP 340M Expansion Module supports additional programmable keys.
The ZIP 36G is fully compatible with Zultys' award winning MXIE Unified Communication application, allowing users to manage calls and messages directly from their computer. Like all Zultys phones, the ZIP 36G utilizes the Session Initiation Protocol (SIP) open standard and is managed from the Zultys MX Administrator application for rapid deployment and the industry's lowest total cost of ownership.
The ZIP 36G phone has been designed with ease of use as a priority. Dedicated and context sensitive soft keys for commonly used functions such as Voice Mail, Conference, Hold, Mute, Transfer, Redial, Do Not Disturb, Park/Pickup, Call Log and more ensure the user is able to concentrate on the call at hand. Eight LCD labeled buttons support up to 21 programmable keys (3 pages of 7 keys) for Line Appearances, Busy Lamp Field (BLF), Speed Dial, Park Slot Monitoring and more.
Expansion Module and Wireless Headset Support (EHS)
The ZIP 36G may be combined with up to six ZIP 340M Expansion Modules to facilitate up to 228 LCD labeled programmable keys, making it ideal for operators and receptionists. Staff requiring mobility around the office will appreciate the convenience of the Electronic Hook Switch control when the ZIP 36G is combined with a compatible Wireless Headset and EHS 3xi adapter.
Full-duplex speakerphone with acoustic echo cancellation, combined with high quality wideband HD speaker, microphone and handset components ensure conversations are always loud and clear, at the same time minimizing fatigue for heavy phone users.
From initial deployment and configuration to future enhancements and upgrades, the Zultys ZIP 36G is designed to save your business time and money. Dual auto-sensing Gigabit Ethernet ports, with integrated IEEE 802.3af Power-Over-Ethernet (PoE) support, eliminate additional wiring and simplify installation. Zultys' leadership in SIP open standards IP telephony for over 10 years provides peace of mind and investment protection.
3.7″ 240×120 pixel backlit LCD

Dual Gigabit Ethernet ports

21 programmable LCD labeled keys

4 context sensitive soft keys

Local 3-way conference

Dedicated headset port with EHS support

Supports ZIP 340M LCD Expansion

Busy Lamp Field (BLF)

XML Browser

XML and LDAP based contact directories

Call forward/Call waiting
One-touch call transfer and conference

Call park and pick up

Display of caller and called line information

Call Log and Redial

Missed call notification

Paging and Intercom auto-answer capabilities

VLAN, DSCP and QOS support

SIP open standard

MXnetwork Redundancy support

802.3af Power-over-Ethernet

Wall mount kit included