PANASONIC — KX-TDA100 & KX-TDA200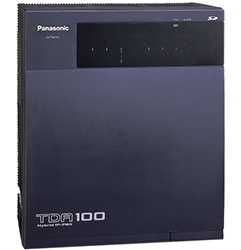 The design of the KX-TDA100 and KX-TDA200 is also a system that can grow by plugging in additional cards and telephones.
Also the cards can be used both in the TDA100 and the TDA200. That means if you outgrow the 100 then you can use your cards in the bigger 200 system.
It also supports optional door intercoms and electrical contacts so you can control an electric door strike and other compatible electric components through the telephone.
You can add a KX-TVA voice processing system as well.
Key Features:
DECT cordless handsets that work anywhere in your building

Voice Mail / Automated Attendant functionality with Unified Messaging

Music/ Message On Hold

Conferencing

Intercom

Caller ID

Paging and Page Pickup

Door phone and Door Opener

Automatic call back

Speed Dialing

Account codes

Direct Inward Dialing

Call Forwarding

T1 and ISDN PRI Integration

Call center solutions

VOIP support