PANASONIC — KX-T7700 SERIES DESK PHONES

KX-T7700 Series Proprietary Telephones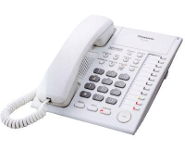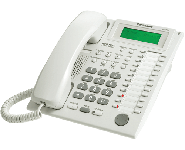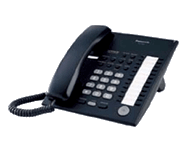 The KX-T7700 series includes 4 telephone models and one DSS console, all available in white and black, providing numerous options to suit each individuals needs and budget. The KX-T7700, KX-T7730, KX-T7740 and KX-T7750 are all designed for use with the Panasonic Advance Hybrid Telephone Systems and our Digital Super Hybrid systems, allowing you to upgrade the system without changing out the telephones. The top of the line, 24 button, 3-line backlit display KX-T7735 telephone was designed to work exclusively with our KX-TA624-4.
Programmable CO and Feature Buttons
Each of the four telephone models in this series are equipped with 24 programmable buttons that can be programmed for one touch access to features and automatic dialing. In addition, 12 of the 24 programmable buttons are also equipped with LED's and can be programmed to direct select a Central Office line or a Direct Station Select (DSS)/Busy Lamp Field (BLF).
Auto-Answer Speakerphone
An Auto-Answer Speakerphone is a valuable asset when it comes to increasing efficiency. Featured on the KX-T7720, KX-T7730 and KX-T7735, this handy speakerphone lets you use the phone for automatic hands-free answering of intercom calls. The phone will no longer be an annoying interruption! You can now take calls without putting your work on hold.
Multi-Purpose, Backlit, Alphanumeric Display
The KX-T7730 and KX-T7735 both feature a backlit LCD display. The display shows the time, day, month dialing number and call duration of external calls. On intercom calls the caller's extension will appear on the LCD display before the phone is answered. The KX-T7730 has a 1-line LCD display, which will show the caller's name and number alternately.
Name and Number Caller ID
When connected to a KX-TA624-4 Advanced Hybrid System equipped for Caller ID* the KX-T7735's 3-line Backlit LCD display will show the outside caller's name and number simultaneously.
Additionally, all Panasonic KX-T7700 Series phone come with a euro-style handset. Sleek and stylish with a low-profile design, this type of handset is comfortable and easy to use.
For an efficient communication system with the flexibility to adapt as your needs change, choose Panasonic KX-T7700 Series phones.
The base can be adjusted to two different positions for ease of use on the desk, or it may be mounted on the wall.

2.5 mm Headset Jack

The KX-T7730 and KX-T7735 both have a navigation key to adjust the LCD contrast, handset/headset volume and speaker volume.
* Requires subscription to name-and-number Caller ID service offered by certain telephone companies for a fee.